We went Boondocking on the James River near Sundre, Alberta.
Please click on photo for larger image.
Nikon Coolpix PS 100 ©
A cold swiming hole.
Please click on photo for larger image.
Nikon Coolpix PS 100 ©
A view of our camper through the trees from the other side of the river.
Please click for larger view.
Nikon Coolpix PS 100 ©
There were many different wild Mushrooms.
Please click on photo for larger image.
Nikon Coolpix PS 100 ©
Please click on photo for larger image.
Nikon Coolpix PS 100 ©
Please click on photo for larger image.
Nikon Coolpix PS 100 ©
Stone Staircase.
Please click on photo for larger image.
Nikon D70 ©
Kris and Skokijan
Please click on photo for larger image.
Nikon D70 ©

Potjiekos.
Please click on photo for larger image.
Nikon D70 ©
""Potjiekos" (literally meaning pot-food) has been part of South Africa's culture for many centuries. When the first Dutch settlers arrived in the Cape, they brought with them their ways of cooking food in heavy cast iron pots, which hung from the kitchen hearth above the fire." – South Africa Tours
The weather was so nice, I did some scrapbooking outside.
Please click on photo for larger image.
Nikon D70 ©

Our hurricane lantern from Lee Valley.
Please click on photo for larger image.
Nikon D70 ©
Solar light.
Please click on photo for larger image.
Nikon D70 ©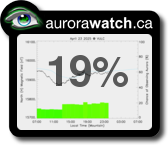 Receive AuroraWatch Alerts straight to your email account!
One night hubby and I drove to higher ground to try and see the Northern lights, which we didn't see, but we did see the milky way and the International Space station.
Select your country and city to see the best viewing times.
It orbits the earth every 90 minutes!
Kris is a Belgian Sheepdog/German Shepherd cross.
Please click on photo for larger image.
Nikon D70 ©


Kris and Skokijan enjoyed swimming.
 Click on photo for a larger image.
Nikon Coolpix PS 100 ©
Wet teddy.
Please click on photo for larger image.
Nikon Coolpix PS 100 ©